I was told that bringing a puppy into the home whilst pregnant would be a headache and hard work. Training a puppy while I should be resting was not how I thought my pregnancy would be, but I set my mind on it and little did we know that this little ball of fur would take our family on a journey that would end up running our own business.
Zuma came to live with us in March 2007. His bright bubbly, naughty personality made us fall In love with him from the start. Zuma was into everything, from digging and burying things in the garden, bringing sticks, stones, balls and toys for us to throw, to chewing plants and trees. His persistence is relentless, but in his mind, he thinks he is helping.
It wasn't until the day my father came over to do some DIY that I realized Zuma was a special dog and his funny little antics would make great stories for my son, who was due to be born that October. Zuma kept putting my father's tools back in his tool box after he had used them. From this, the story "Zuma likes DIY" was born, this was shortly followed by "Zuma likes to dig", no an awarding winning children's book and "Zuma likes to hide", which are all of Zuma's favorite pastimes (as well as chewing stuff, but as yet not found a positive learning story about that).
These stor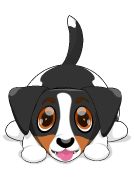 ies soon became popular with our friends children, who would all come to the house especially to see their friend Zuma. With this popularity, our family run business has grown into a new kind of children's brand that is dedicated to producing fun and lovely products that encapsulate the essence of Zuma, so other children can share in the love and sheer craziness that is our dog ZUMA.