Zuma often has something to say and you can read his opions here on his blog.
Small Dog's Big Start to 2019
It's been a very snowy start to the new year with piles and piles of white stuff landing on my mountain this month. I've barely been out for my all important walkies as the snow has been downing me in cold white fluffyness. I've been desperately trying to melt my way out of the mountain by leaving yellow marks all over that clean white cold stuff, but now believe I'm gonna have to perminently make wee wees for a week to make a tunnel large enough to get out of this snow. You can see me trying to play ball in the snow on my instagram channel.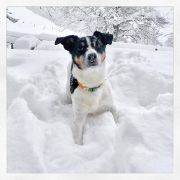 Despite all that, we're still able to work (when I say 'we', I mean Mummy) and we started the year celebrating 10 years of Zuma the Dog and the award of the title of the "Best Children's Entertainment Brand 2018 – UK" by LUX Life Magazines Global Excellence Awards of 2018. How exciting is that!?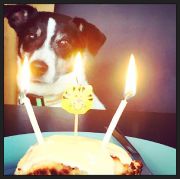 Work has begun on our aminated series starring me. There's lots to tell you, but currently under contract to not reveal anything. What I can say is that it is set to shake up the children's entertainment industry as the producers plan to cover new ground with their 'Empathy-Inspired stories with strong anti-bullying messaging and focus on religious, cultural and racial tolerance as Zuma (me) and my pals adventure together'.
I'm defo looking forward to all those adventures with my new buddy's.
Until next time............stay safe on the internet.
Love you
XX